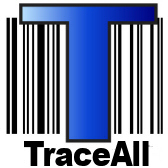 Food Safety and Quality Assurance software solution that:
Provides traceability forwards and backwards
Track all raw materials, ingredients and packaging materials
Ensures adherence to Recipe and the Process
Accurate "where used" reports to limit recall scope
Provides simple and readable traceability information to the consumer
Global standards for product identification, capable of providing information back to the supplier level
Save time, money and increase operational efficiency with:
Raw material, Work-in-progress and Finished goods inventory control
Recipe management
Customer orders and shipments tracking
Easy Recall Information
Planning and Costing Modules
Packing Plans
Mobile Capabilities

Empower your organization to implement Food Safety and Quality Assurance processes simply and cost effectively with TraceAll!
Traceability, what is it, why do I need it?

Can-Trace uses the International Organization for Standardization (ISO) definition of traceability (that appears in ISO 9000/2000):
"Traceability is the ability to trace the history, application or location of that which is under consideration".
For additional clarity, Can-Trace further defines traceability as being composed of two components: tracking and tracing.
Traceability is the ability to accurate record and report on what ingredients, processes, machines, operators, recipes etc. were used in the production of consumer goods. Food processing facilities need to be able to assure consumers, shareholders and government agencies that quality ingredients are used in the production of the consumer goods. Can-Trace, a government created and possibly soon to be mandated standard for the traceability of product ingredients, will force food producers to manage and report on huge amounts of information. Europe already has a mandated, food industry, traceability reporting and management standard in place. In the near future, Canada and other countries will need to implement similar standards.
Our Product: A modular software solution capable of providing complete product traceability specifically targeted at the food industry. The solution is based on Can-Trace, the government/industry standard created in 2005 for quality assurance and product traceability. The customer (any food, beverage or consumer goods producer) can use this software to track ingredients, processes, equipment, operators, recipes, containers, etc. utilized in the production of goods.
The Software is available in three versions: TraceAll Lease Manager, TraceAll Enterprise and TraceAll Lite. The Lite version runs on a remote server as a service over the Internet ("Software as a Service"). The Enterprise version is installed at the customer's facility using their internal network and servers. Customers can easily scale from the Lite to the Enterprise version. The Lite version is attractive to small and medium sized businesses. Typically these companies do not have the IT resources to manage the support of an environment to host a large scale traceability application. By utilizing the Lite version, the software runs as a service over the internet which eliminates server and infrastructure costs. Customers pay monthly fees and access the Lite version from any Internet connected PC. Low monthly costs compared to competitors in-house, large server/database installation requiring substantial capital investments makes for a very attractive startup for the small to medium sized customer.
Product features include:

Automatic Data Capture that is user customizable (direct machine interfaces)
Manual Data Capture using barcode scanners, RFID readers, Windows Mobile devices
Quality and Inventory Control
Product Verification
Import/export functions to integrate with existing applications and feeds to external applications like EECNet
Report Generation including backward and forward product traceability
Modularized components including Recipe Management, Machine setups, Operator qualifications
Product Sustainability assessment

The team at Damselfly Solutions Inc. has extensive experience in developing computer based solutions to real world manufacturing problems. We have developed complete traceability systems from raw materials, semi-finished, finished to end products for very large manufacturing companies. We have a strategic alliance with Automation Project Group - a company that develops and installs automation (robotic packaging and handling solutions) for the food and consumer goods industry.
Reasons for implementing traceability of your products:

The pet food contamination issue of Feb. 2007 is a prime example of what happens when products can't be accurately traced to origins – entire production lots were re-called due to insufficient traceability data.
The recent media attention given to lead content in some toys manufactured in China has heightened consumer awareness to the manufacturing process of goods and will lead to more conscious consumer purchasing.
BSC is a prime example of a consumer need that leads to a government mandated traceability system to protect the consumers and our economy.
We have a solution that will compliment your business and its processes and provide benefits with real world risk mitigation and ROI.

Food Product Traceability:
This is a brief overview of how products can be tracked through your process with the use of barcodes, RFID and operator input. As ingredients are received, and in-house barcode or RFID is applied to incoming raw materials. Scanning the ingredients at mixing, the outgoing product is associate with all incoming ingredients for traceability. This process continues through the production, packing and shipping functions. Additional information can be captured like individual molds used for shaping your products as well as ovens and process parameters like oven temperature and conveyor speeds. The result is complete product ingredient and process awareness that ensures quality and provides true risk mitigation.
For more information on how we can help you with your product traceability, please contact us at:
Phone: 519-896-4007
Fax: 519-896-1787
Email: Info at Damselfly
Click to get more information about traceability or to open our TraceAll product specific website click ( www.traceall.ca )